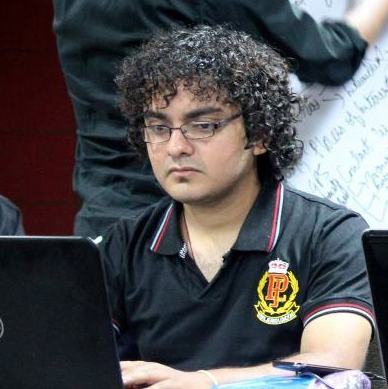 "Things work out best for those who make the best of how things work out."
- John Wooden
---
A variety of services on offer. Kindly keep scrolling
---
---
My Skills as my Services for easing out your tech worries. Never hesitant to learn anything new if it benefits you
---
Design
User Interface (UI) Design

I design clean, efficient and distinctive User Interfaces for web based products and services for optimum usability and end-user engagement.
---
Brand and Visual Identity Design

I also do brand and visual identity graphic designs, such as logo design, digital image retouchings, designing digital images for social brandings, such as cover photo designs and profile picture designs for company's various social media platforms, such as Facebook, Twitter, Google+, Pinterest, etc.
---
Print Identity Design

Although my main focus of interest is web based designs, but I have done a lot of business card designs, banner designs, flyer designs, poster designs, brochure design, etc. for a number of organizations worldwide. Feel free to contact me for a quick design work.
Development
Front End Development

Making use of HTML/HTML5, CSS/CSS3 as ingredients with pinch of JavaScript and jQuery to taste, I cook modular front end web user interfaces. I highly advocate use of responsive web design as the web is expanding and devices are shrinking to mobiles and tablets rather than old fashioned PCs. I also incorporate Twitter Bootstrap and Zurb Foundation in projects as and when required or requested.
---
Websites and Web Application Development

Whether you wish to get yourself a simple, elegant looking responsive portfolio website to boos up your business, or a blog to write down your thoughts to the world, an ecommerce site, or a complex web application, you're in a good company. I make use of one of the most powerful Content Management Systems (CMS), WordPress to develop websites, blogs, and ecommerce platforms. However, whenever required, I also create custom coded applications and websites using php and MySQL.
Content Writing
Blog Writing

Given my long experiences writing articles with numerous number of blogs I've worked with, including a few personal blogs and guest posts to multiple websites as well, I'm available for any kind of blog writing work. My articles are thoroughly researched, keyword rich and SEO friendly as well.
---
Miscellaneous content writing jobs

I'm also available for any other miscellaneous content writing work, such as brochure content, website content, portfolio content, etc.
Online Marketing
Search Engine (SEO,SEM)

Finding better visibility is the main aim of every website, or web based business. Therefore, getting an expert's support at Search Engine Optimization (SEO) and Search Engine Marketing (SEM) is the need of the hour. This is a long and a process that requires patience. You need not worry with the SEO and SEM work being entrusted with me.
---
Social Media (SMO,SMM)

With more and more users connecting to each other on the social media platforms such as Twitter, Facebook, Pinterest, Google+, etc., marketing and creating a brand identity in these fields is a must if you are a B2C based organization irrespective the size. I am very well able to handle these aspects of your online businesses.
Mobile App Development
The world's going mobile. And so should your business. You should have a keen vision on how a simple mobile app can take your online business leaps ahead. I design and develop HTML5 Powered cross platform mobile apps that can run on major platforms such as iOS(iPhone/iPad), Android, Blackberry, etc. Feel free to ask further on it.
Consulting
Facing troubles to get your business online or getting a brand identity? Need an advice? With my varied skill set and experience into different scopes, I'm available for all types of tech based consulting to aid you get optimum result and minimize your investments. Be at ease and just connect to me for a quick advice.
---
I am available for consulting, collaboration and contract based work
Hire Me
---